Are you a seasoned social media marketer – a marketer looking to venture into social media marketing, or a business owner looking to leverage on social media, it's helpful to know the most popular social media sites around. This will allow you to maximize your brand reach on social media, engage with the right people, and achieve your social media goals.
To make things easier for you, we did some research and compiled information about the 13 top social media sites in 2019-20. Some will be familiar to you, others might sound foreign to you. It might be worth reading more about the social media sites that might be great for your brand but that you have not explored.
And Do remember that you don't have to be presence at each & every social media sites!
Let's dive in deep.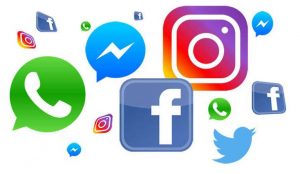 (MAUs stands for Monthly Active Users, and MUVs stands for Monthly Unique Visitors.)
1. Facebook – 2.23 billion MAUs
Facebook is the biggest social media site around, with more than two billion people using it every month. That's almost a third of the world's population! There are more than 65 million businesses using Facebook Pages and more than seven million advertisers actively promoting their business on Facebook, which makes it a pretty safe bet if you want to have a presence on social media.
2. YouTube – 1.9 billion MAUs
YouTube is a video-sharing platform where users watch a billion hour of videos every day. To get started, you can create a YouTube channel for your brand where you can upload videos for your subscribers to view, like, comment, and share.
Besides being the second biggest social media site, YouTube (owned by Google) is also often known as the second largest search engine after Google. (So if you want your brand to be on YouTube, I would recommend reading up on YouTube SEO.)
Finally, you can also advertise on YouTube to increase your reach on the platform.
3. WhatsApp – 1.5 billion MAUs
WhatsApp is a messaging app used by people in over 180 countries. Initially, WhatsApp was only used by people to communicate with their family and friends. Gradually, In India recently people started communicating with businesses via WhatsApp.
WhatsApp has been building out its business platform to allow businesses to have a proper business profile, to provide customer support, and to share updates with customers about their purchases. For small businesses, it has built the WhatsApp Business app while for medium and large businesses, there's the WhatsApp Business API. Here are some stories of how businesses have been using WhatsApp
4. Facebook Messenger – 1.3 billion MAUs
Messenger used to be a messaging feature within Facebook, and since 2011, Facebook has made Messenger into a standalone app by itself and greatly expanded on its features. Businesses can now advertise, create chatbots, send newsletters, and more on Messenger. These features have given businesses a myriad of new ways to engage and connect with their customers.
If you are thinking about using Messenger for your business, here are easy ways you can use Messenger for your marketing.
5. WeChat – 1.06 billion MAUs
WeChat grew from a messaging app, just like WhatsApp and Messenger, into an all-in-one platform. Besides messaging and calling, users can now use WeChat to shop online and make payment offline, transfer money, make reservations, book taxis, and more.
WeChat is most popular in China and some parts of Asia. If you are doing business in those areas (where social media platforms like Facebook are banned), WeChat could be a good alternative.
6. Instagram – 1 billion MAUs
Instagram is a photo and video sharing social media app. It allows you to share a wide range of content such as photos, videos, Stories, and live videos. It has also recently launched IGTV for longer-form videos.
As a brand, you can have an Instagram business profile, which will provide you with rich analytics of your profile and posts and the ability to schedule Instagram posts using third-party tools.
To help you get started and succeed, here's our complete guide to Instagram marketing.
7. Tumblr – 642 million MUVs
Tumblr is a microblogging and social networking site for sharing text, photos, links, videos, audios, and more. People share a wide range of things on Tumblr from cat photos to art to fashion.
On the surface, a Tumblr blog can look just like any other websites. So many blogs that you come across online might be using Tumblr!
If you want to consider Tumblr for your marketing, Viral Tag has written a starter guide to Tumblr marketing.
8. Tik Tok – 800 million MAUs
Tik Tok (also known as Douyin in China) is a rising music video social network. It was the world's most downloaded app in the first quarter of 2018, beating Facebook, Instagram, and other social media apps.
My initial impression is that it looks like Instagram for short music videos (though I'm sure it's more than that). Users can record videos up to 60 seconds, edit them, and add music and special effects.
9. Twitter – 335 million MAUs
Twitter is a social media site for news, entertainment, sports, politics, and more. What makes Twitter different from most other social media sites is that it has a strong emphasis on real-time information — things that are happening right now.
Another unique characteristic of Twitter is that it only allows 280 characters in a tweet (140 for Japanese, Korean, and Chinese), unlike most social media sites that have a much higher limit.
Twitter is also often used as a customer service channel. According to advertisers on Twitter, more than 80 percent of social customer service requests happen on Twitter. And Salesforce calls Twitter "the New 1-800 Number for Customer Service". There are many social media customer service tools, such as Buffer Reply, available now to help you manage social customer service conversations.
10. Reddit – 330 million MAUs
Reddit, also known as the front page of the Internet, is a platform where users can submit questions, links, and images, discuss them, and vote them up or down.
There are subreddits (i.e. dedicated forums) for pretty much anything under the sun (and above). Subreddits, however, have different levels of engagement so it's great to research to see if there are popular subreddits that your brand can be part of. For example, r/socialmedia tends to be pretty quiet so we are rarely on Reddit.
Besides submitting your content to Reddit and participating in discussions, you can also find content ideas and advertise on Reddit.
11. LinkedIn – 653 million MAUs
LinkedIn is now more than just a resume and job search site. It has evolved into a professional social media site where industry experts share content, network with one another, and build their personal brand. It has also become a place for businesses to establish their thought leadership and authority in their industry and attract talent to their company.
To help you grow your LinkedIn Company Page follower.
LinkedIn also offers advertising opportunities, such as boosting your content, sending personalized ads to LinkedIn inboxes, and displaying ads by the side of the site.
12. Pinterest – 325 million MAUs
Pinterest is a place where people go to discover new things and be inspired, quite unlike most social media sites where engagement is the primary focus. According to Pinterest, 78 percent of users say that content on Pinterest from brands are useful (much higher than that on other sites). This gives your brand an unique opportunity to shape their purchasing decisions.
As Pinterest users want to be inspired to try or buy new things, having a presence on Pinterest could help put your brand on their minds. Here are some tips on using Pinterest for business that the Pinterest team shared with us.
13. Telegram – 200 million MAUs
Telegram is similar to most social messaging apps and is often known for how secure it is as a messaging app.
There are several ways brands can make use of Telegram, besides providing one-on-one customer support. For example, brands can create chatbots for the Telegram platform or make use of Telegram's channel feature to broadcast messages to an unlimited number of subscribers.
Sources & Credits : The list of top 13 social media sites is compiled by Statista. The respective monthly active users number was taken from the following websites: Facebook (as of June 30, 2018), YouTube (as of July 20, 2018), WhatsApp (as of January 31, 2018), Messenger (as of February 1, 2020), WeChat (as of August 15, 2018), Instagram (as of June 20, 2018),  Tumblr (estimated as of July 2018), Tik Tok (as of June 2018), Twitter (as of July 27, 2018), Reddit (as of November 12, 2017),  LinkedIn (as of July 2018), Pinterest (as of September 10, 2018) and Telegram (as of March 2018)