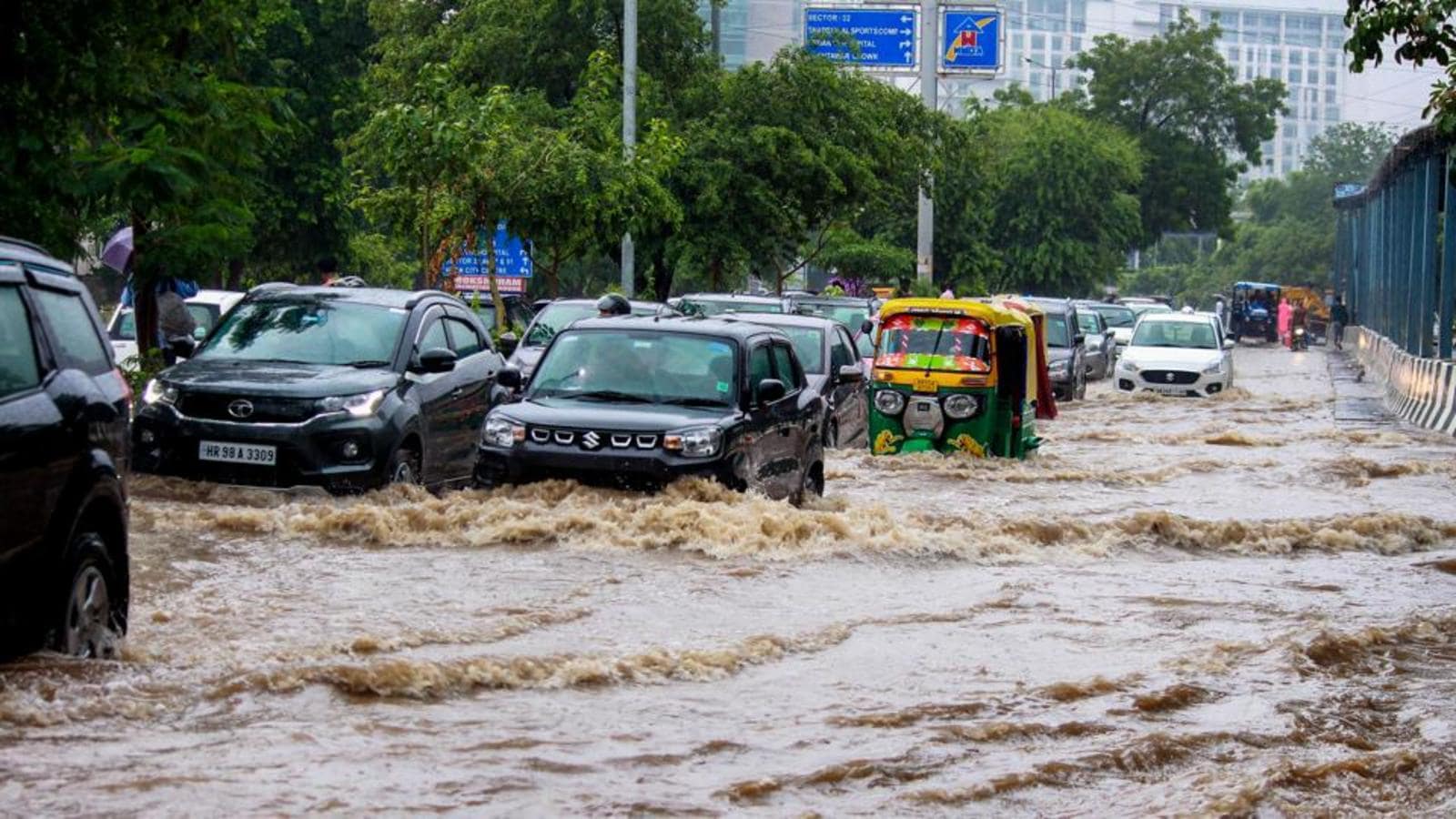 A negative blame game (#BrokenRadio) for so-called progressive and development cronies? We cannot nuke the natural disasters or climatic mutations but we can arm ourselves with universal wisdom, either to really help those in need / suffering or outlay investments for future vested gains of those same high-decibel cannibals. The toll stands as usual in rains that have lashed Delhi NCR apart from some collateral losses. All modes of transport – air, road and rail services – have been hit due to the unprecedented deluge, leaving many stranded. Adding to worry of the citizens and administration, the met department has forecast more rainfall under the influence of a trough of low pressure and upper air circulation over the Bay of XXX and sea coasts, the majority water bodies are showing those on land, who's boss? There can be protests against non-availability of essential items.
As bookies announce their rates on how much it would rain, political contractors will hire its usual bonded laborers for carrying out some water-logging works / operations – the inferior the better it is for more bucks to be made later. The sober masters (IAS / IPS / Neta / Corporate) lot have different ways of elite rain-forest frog dancing.. another story left to be addressed by popular and online media as per strategic AI voting and funding agenda of its TRP / OTT / PPP owners!
It is extremely painful to see people put in to such pathetic positions due to shortsightedness and looting culture of employees at most public utility service providers in good times. It rained very heavy, not only in Chennai but also in adjacent townships. The rivers overflowed and battered the already choked but not the only such City.
With God's grace, if the rains continue for another few days, the cities will come to some virtual halt and then the party's loving contractors will be tendered mammoth tasks of draining the water, road repairs, new potholes, etc.. All what celebrity cronies and bhakts can see are its poor laborer clearing the waters while SUV babu gifts more luxury cars, bank balance, properties, jewellery and imported gadgets to the well-wishers, girlfriends and wives each year… happy family, happy India."
Never did the ruling or opposing leaders cared for civic amenities, nor the masses are aware of their rights & basic entitlements from government servants as ONLY custodian of public resources, NOT some crowned populists to command and demand. People get contented with lure of freebies, fame, jumlas and some quick money. Ideologically, short-selling or going-long cronies will never profit understanding what exactly common people's needs are; basic civil amenities like roads, sewerage, storm water drains, electricity, social / nature's cleanliness and maintaining of water bodies.
Profiteers can be found proudly laughing and forwarding jokes on potholes in city.. thank to the Bhakts, Netas, Topis and Mafia.. corruption is endemic and pandemic. But who cares. Keep voting the guys with notes and charm, spreading viral lies, media invasion, technology crooks and overall Chanakya cleverness of hiding truth and trading justice.. see how the corrupt-rich change the definition of human life in future hiring moronic goons. Not just in Delhi NCR, the whole of India is vulnerable. Current tenders for development jugaad is best insurance for smart corruption trending on paid media. More than 90% of sarkari contracts in all fields are just clean zero-sum …. some travel break humor is good for relaxing..
The typical Raam Bharose (राम भरोसे) attitudes, going viral via jugaad parties for profit and their capital politics, aggressively and vehemently promoted among mobified masses by babas & babes are reasons for all current and future lifestyle devastation and nature's wet or dry fury – no STEM or GOD will keep rescuing the greedy forever. Source: https://wisepoint.org/2340